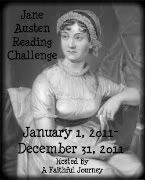 When I checked in last month, I was trying to decide which title to begin next. I ended up going with Northanger Abbey
, which I've never read before. It was the very first book I read on my brand new Kindle! I very much enjoyed it! Ms. Austen's wit really comes through in this one as she pokes fun at Gothic novels, which were so popular in her day. And yet there's a serious undercurrent about the social structure of her day and how ridiculous it was. I found myself alternating between laughing out loud at the sarcasm and being frustrated at Catherine's naivety. Here's the description from Amazon:
Though Northanger Abbey is one of Jane Austen's earliest novels, it was not published until after her death--well after she'd established her reputation with works such as Pride and Prejudice, Emma, and Sense and Sensibility. Of all her novels, this one is the most explicitly literary in that it is primarily concerned with books and with readers. In it, Austen skewers the novelistic excesses of her day made popular in such 18th-century Gothic potboilers as Ann Radcliffe's The Mysteries of Udolpho. Decrepit castles, locked rooms, mysterious chests, cryptic notes, and tyrannical fathers all figure into Northanger Abbey, but with a decidedly satirical twist. Consider Austen's introduction of her heroine: we are told on the very first page that "no one who had ever seen Catherine Morland in her infancy, would have supposed her born to be an heroine." The author goes on to explain that Miss Morland's father is a clergyman with "a considerable independence, besides two good livings--and he was not in the least addicted to locking up his daughters." Furthermore, her mother does not die giving birth to her, and Catherine herself, far from engaging in "the more heroic enjoyments of infancy, nursing a dormouse, feeding a canary-bird, or watering a rose-bush" vastly prefers playing cricket with her brothers to any girlish pastimes.
Catherine grows up to be a passably pretty girl and is invited to spend a few weeks in Bath with a family friend. While there she meets Henry Tilney and his sister Eleanor, who invite her to visit their family estate, Northanger Abbey. Once there, Austen amuses herself and us as Catherine, a great reader of Gothic romances, allows her imagination to run wild, finding dreadful portents in the most wonderfully prosaic events. But Austen is after something more than mere parody; she uses her rapier wit to mock not only the essential silliness of "horrid" novels, but to expose the even more horrid workings of polite society, for nothing Catherine imagines could possibly rival the hypocrisy she experiences at the hands of her supposed friends. In many respects Northanger Abbey is the most lighthearted of Jane Austen's novels, yet at its core is a serious, unsentimental commentary on love and marriage, 19th-century British style.
I have the movie in my queue at Netflix to watch soon. I'm trying to watch a movie adaptation of each book after I read it.



Next I moved on to The Girl in the Gatehouse
by Julie Klassen, an Austen-inspired story
about Mariah Aubrey, a ruined young woman who is sent to live in disgrace in the abandoned gatehouse on a distant relative's estate. I loved this one too, and would like to read more of Klassen's books now! A mystery, romance, and themes of forgiveness and the need for approval are all woven together into a very enjoyable story.
I highly recommend it!
The Girl in the Gatehouse
is the April pick for the
Christian Fiction Book Club
. I just posted
my review of the book and discussion questions
if you'd like to read them.
Oh, and I also wanted to share
this article about why we "need" Jane Austen
, that I ran across recently. It caught my eye because of this challenge and I thought it was interesting food for thought.
For this coming month, I hope to start another Austen title and maybe finally get to Just Jane by Nancy Moser. I also have a copy of Jane Austen Ruined My Life
sitting on my shelf waiting. My plan is still to continue alternating Austen's novels and Austen-inspired novels, hopefully reading one of each every month or so. This will get me through all of Austen's novels and a half-dozen or so Austen-inspired titles by the end of the year.
What's everyone else been reading lately?