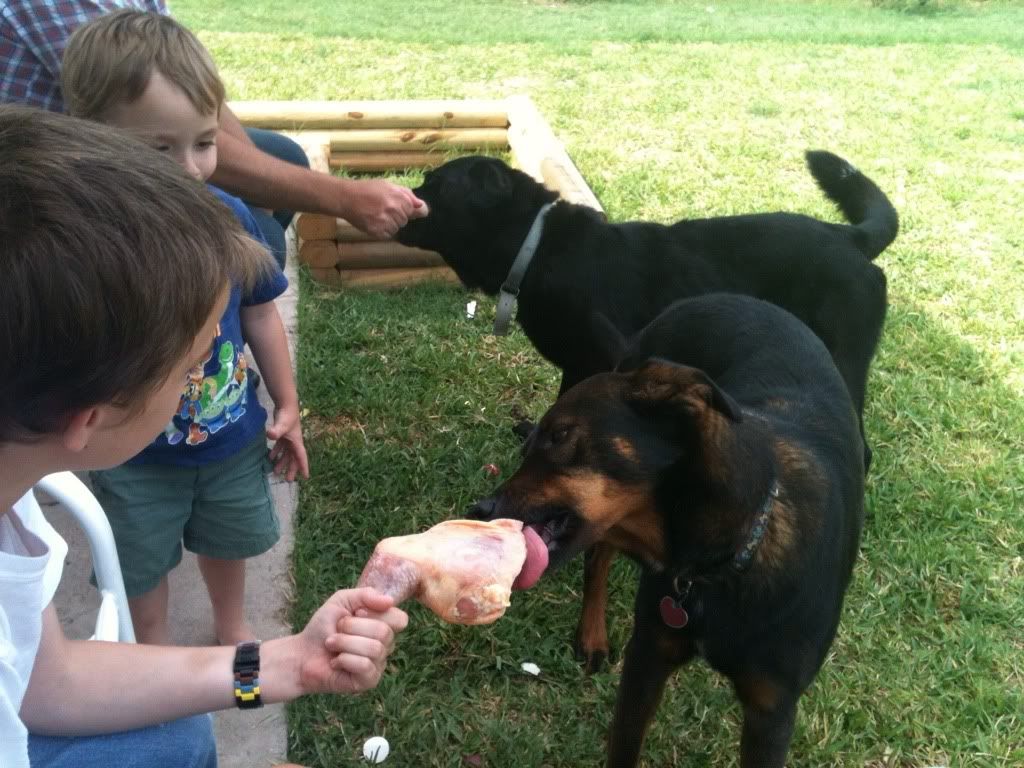 About once a week, I use my food processor to puree a big batch of what I've nicknamed "glop" consisting of:
an organ meat of some type (I've been rotating through things like chicken liver, gizzard, and heart, beef tongue, liver, and heart, and even ground beef occasionally)
leftover fruit from making water kefir (full of good probiotics!)
a nice scoop of coconut oil
a glug of organic apple cider vinegar
various odd scraps and leftovers from the fridge: veggies, meat, gravy, and so on
a couple of farm eggs, shells and all
a cup or so of homemade chicken or beef broth
every couple of weeks when we make homemade broth, I add all the veggies, bones, etc. that we strain out of it
a splash of raw milk, cream, or kefir
Once a day each dog gets their "raw meaty bone" portion. We've been using chicken for this. It's the most affordable, and chicken leg quarters work great for our two big guys. Sometimes we do this in the morning, sometimes in the evening, depending on our schedule. For their other meal, they get a serving of "glop".
Sam the black Lab
Sam is a typical five year old Lab. He has always gulped or bolted his food, and will eat pretty much anything. His allergies were the main catalyst in our decision to switch feeding methods. He dove right into this new eating with gusto! I was super nervous that he would swallow too big a chunk of bone and choke or obstruct his bowel. For the first several days I constantly watched him and checked the yard to make sure everything "came through" okay. The things we do for our pets...
Since he tends to try to bolt, we've given him his leg quarters partially frozen, and my husband holds one end so he can't gulp it down as quickly. After only a few weeks of this, he's already gotten much calmer and is eating slower and not trying to swallow it whole! It's pretty amazing to watch him crunch down an entire chicken leg quarter in about sixty seconds with those powerful jaws!
Besides the slowing down while eating, here are the other things we've noticed:
His ears don't stink at all anymore and don't seem to be bothering him much.
His multiple trips outside to potty during the night have virtually stopped.
The slight orange tinge to the fur on his flanks and haunches, which I've read can be caused by nutritional deficiencies or stress on the body has disappeared.
The volume of...output...is greatly decreased! I had read that it would be 1/3 of what it was on commercial food and thought that must be exaggerated, but now I'd agree that's a pretty accurate estimate! This may not be a huge deal to everyone, but when you have three dogs, two of whom are quite large, in a suburban backyard, even a fairly large one like ours, this can become an issue rather quickly if regular poop scooping is not done. The difference has been amazingly obvious! Even without all the other improvements, just this makes it obvious that much more of the food is being utilized and there is less stress on the digestive system.
Shep the Australian Shepherd mix
Shep is three years old. He's nearly the same size as Sam...taller but leaner. To our surprise, he had a difficult time with the switch at first! He licked and nibbled the meat we offered him, then dropped it and refused to eat it. The first day I finally took pity on him after several attempts and gave him a little bit of the grain-free kibble we bought for backup. The second day he continued the hunger strike, refusing to eat. It seems he wasn't as in touch with his "inner wolf" as Sam. ;-) On the third day we took advice we'd read and took measures to coax him. My husband seared the leg quarter for just a few seconds on each side and sprinkled a little Parmesan cheese on it. That did the trick! He happily crunched it down.
The next day I was prepared to do the same thing but my husband suggested trying it plain first and sure enough, he ate just fine, and has ever since. The one caveat is that one of us
must
hold it for him. Whereas Sam would be perfectly happy to eat his without any help (although he's fine with us holding it too), Shep will
only
eat his if it's being held. Silly dog!
Since he has never had the allergy issues like Sam and was apparently in great health even with the commercial food, there hasn't been as much noticeable difference with the switch for him. One thing that has improved are his teeth and breath! Sam likes to gnaw and has always kept his teeth fairly clean but Shep's had buildup and he has always had nasty fish breath. Eating the raw meaty bones every day has cleaned his teeth off and improved his breath quite a bit in just a few short weeks. And of course, his "output" has decreased also!
Abby the dachsund/terrier mix
Abby is just shy of 16 years old. Yes...
sixteen
! My husband jokes that she's so stubborn she's going to live to be 20 just to be ornery! We initially weren't sure whether to try giving her the raw chicken. I wasn't sure how she would react or how her teeth would do...she's had some trouble even with kibble. I'd read that even toothless dogs were able to gum it down, but we were still hesitant. We were tentatively planning to give her the grain-free kibble and some of the "glop".
Well, true to her personality, she had other ideas! On the second day, as my husband tried to coax Shep to eat his leg quarter, she eagerly approached, gathered herself, and began to heroically leap into the air trying to reach the meat that he was holding at nearly waist height! Surprised, he offered it to her and she began to crunch it down! She ate nearly half of it! It seemed the decision had been taken out of our hands!
So...she now eats a chicken wing or back while the big boys get their leg quarter, and gets a small helping of "glop" also.
We've noticed a couple of positives with her also:
Her back legs are very arthritic and cause her balance to be off, so she falls down easily. Going up and down the stoop to get in and out the back door is hard for her. She's still definitely arthritic and unsteady, but she seems to be a little less stiff.
There's no doubt that she's more alert. Her usual routine is to spend most of the day asleep in her bed or some other corner of the house where the kids and other dogs can't bug her, going out to do her business once or twice a day. We've noticed her up and around, wandering around the house and hanging out with us much more frequently. Sometimes she even hangs out in the yard for awhile instead of whining to come back in right away. And she's very eager and alert at mealtime!
Like Shep, her teeth are already cleaner.
So overall, we're very pleased with what we're seeing! In fact, I think back to other dogs we've had and wonder what difference this type of diet might have made for them.
Yes, there's an ick factor to get past, but it's really not as bad as I'd thought it would be. And yes, it's definitely a little more time consuming than just dumping a couple scoops of dry food in their bowls once or twice a day!
Dog feeding has always been the kids' job, which they've been able to do pretty much unsupervised, and now they can't do it without our assistance. Our dogs are very well behaved about their food as far as being protective or aggressive, so we've had no problems in that regard, but they can't prep the food alone now, and of course it takes two people to hold the leg quarters for the two big dogs. The two older kids switch off weeks being the dog feeder, so whoever's week it is generally feeds Shep his leg quarter while my husband feeds Sam his, and Abby eats her portion. Then they assist me in putting the "glop" in the bowls for the other meal, serve it to the dogs, and get them fresh water.
Really though, the hassle has been minimal. It only takes a few minutes of prep each week and maybe five or ten minutes of our time each day, and the results we're already seeing have convinced us that we're on the right track!
In
Part One
, I provided several links for more information if you're interested in learning more.
Have you fed a pet dog or cat something besides commercially prepared food? I'd love to hear how and why you've done it and how it's worked out for you!
Linked with Real Food Wednesday.