I haven't yet encountered a
Classical Academic Press
product that I haven't liked. Our family has used and enjoyed several different items and I've always been impressed with the quality.
God's Great Covenant: A Bible Course for Children
is no exception. Over the last several weeks I've been looking over the
New Testament Volume 1: The Gospels
set.
Here's the publisher's description:
In

God's Great Covenant, New Testament 1: A Bible Course for Children

, students will follow the story of Jesus, the Messiah and King, as He is born and fulfills all God's promises. But Jesus does not arrive as people expected. The people were looking for a mighty warrior to deliver them from the oppressive Roman government. Instead, He came as the suffering Savior, who would die as the sacrifice for sin and death. He was building a kingdom that was not of this world—it was the kingdom of God. He is the Son of Man, God's Servant, the Messiah, and the Son of God. Each of the four units in this text emphasizes one of these names of Jesus.

God's Great Covenant, New Testament 1

teaches the Gospels to students in fourth grade and up, using stories, worksheets, memory verses, devotional guides, quizzes, and a little boy named Simon. In the introductions to the text, students will also learn about the historical, cultural, and geographical setting of the New Testament. This book is a most comprehensive and heartfelt study of the Gospels, and many parents and teachers will find themselves learning along with their students.
As you know, I'm a firm believer in teaching our kids Scripture as
one big story of redemption
, or to put it another way, as the story of God's covenant of grace. This series does exactly that! Author Claire Larsen has a gift for making the concept of covenant understandable at this level, weaving together the threads of the story of grace throughout Scripture. She's able to use language in such a way that complex theological concepts are brought down to the students' level. She uses a conversational tone and the writing is engaging and thought-provoking. The worksheets and quizzes are thorough, but have plenty of variety and aren't at all tedious, and the maps and illustrations are beautifully done and fun to look at!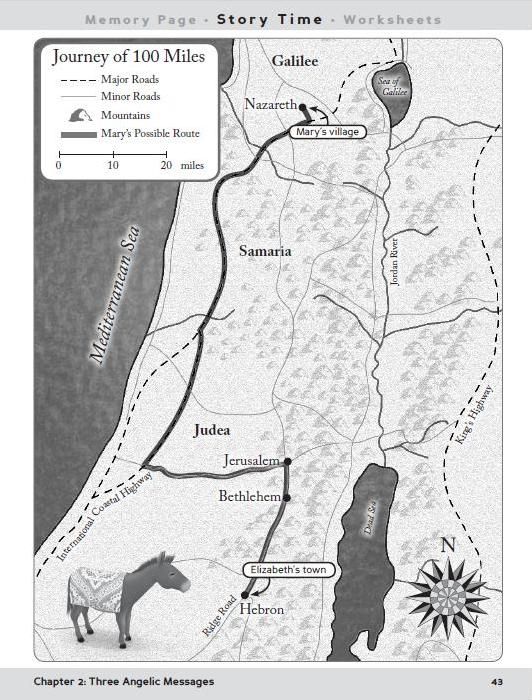 A sample map page
This particular volume,
New Testament 1
, covers the four Gospels in four units. Most of us are familiar with the fact that each of the four Gospels emphasizes a different aspect of Jesus' purpose and ministry, in light of the audience they were writing too: Matthew focuses on Him as the Messiah, Mark as God's Servant, Luke as the Son of Man, and John as the Son of God. Each unit of this study focuses on one of these titles:
Unit I: Jesus, the Son of Man, Has Come...To Live Among His People
Unit II: Jesus, God's Servant, Has Come...To Proclaim the Good News
Unit III: Jesus, the Messiah, Has Come...To Teach About God's Kingdom
Unit IV: Jesus, the Son of God, Has Come...To Conquer Sin and Death
But before diving right in to the first unit, there's an impressively comprehensive introduction section that sets up the background for the entire study in multiple areas including:
Historical and Political
Chronological
Geographical
Religious
Daily Life
Each of the four units is divided into chapters, 36 in all. The chapters contain a
memory page that includes the chapter's key theme and Scripture, a weekly memory verse, a key facts chart, a fulfillment of prophecy or "covenant picture" section, plus
thought-provoking "Think About It" questions that encourage children to consider how to relate to God in their own lives, and a
worksheet and quiz. Unit reviews at the end of each unit
contain a memory verse worksheet, devotional guide, and a fun short story of life in Simon's world (Simon is a fictional character who lives in 1st century Israel).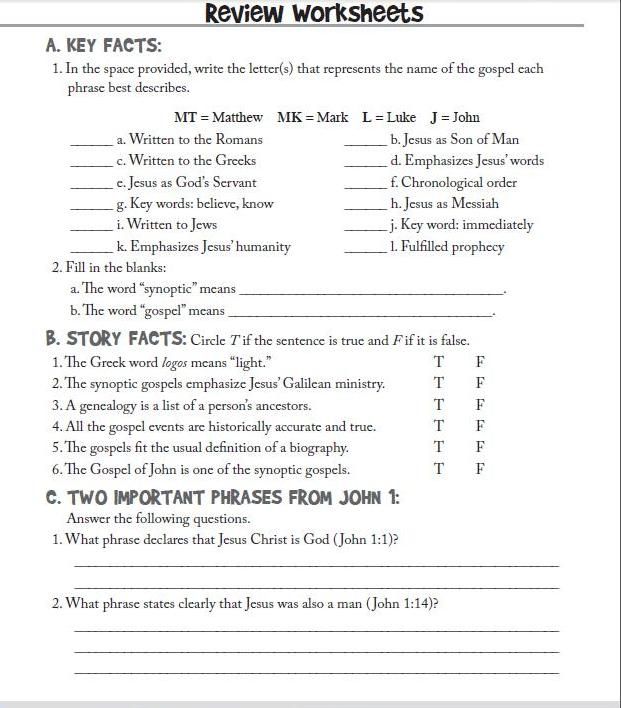 A sample worksheet
The
teacher's edition
is incredibly thorough, with a full reproduction of the student text accompanied by answer keys and teacher's notes with additional factual information expanding upon the historical, geographical, cultural, and theological concepts introduced in the text. There's also plenty of room in the margins for jotting your own notes. I found the teacher's notes wonderfully comprehensive and instructive and the guide in general very user-friendly. Sometimes I feel like the teacher's editions aren't worth the extra money, but this one definitely is!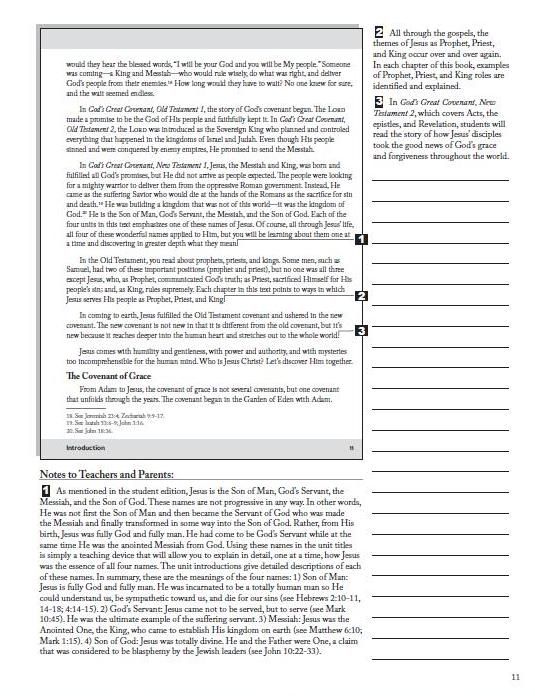 A sample teacher's edition page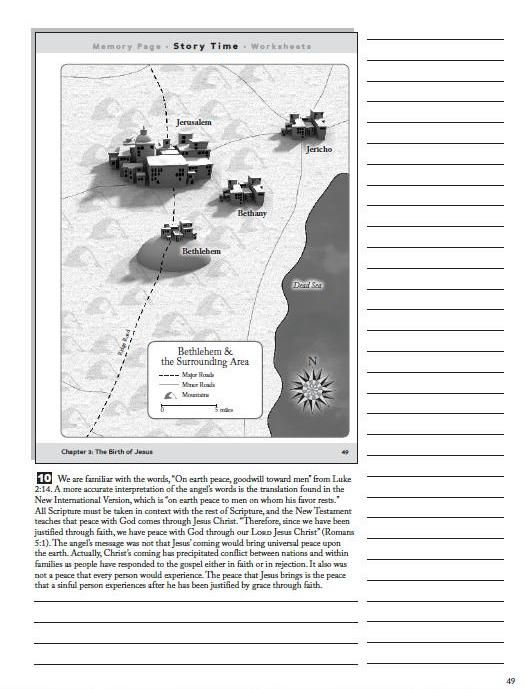 A teacher's edition map page
As another great feature,
Classical Academic Press
also offers a
downloadable audio file
of thirty two readings from the study being read aloud. The file is compatible with most popular music players, like iTunes. What a handy idea! This is perfect to keep up with lessons while on the go.
The
New Testament 1 study
is designed to be used for 4th grade and up. The Old Testament sets appear to be geared to begin around 2nd grade. Based on what I've seen, I think these can be worked through at these age levels together, but would also work great done independently by an older elementary or early junior high age student. I'm seriously considering adding the
first Old Testament set
to Karate Kid's (11) studies next year, to do alongside his study of ancient history using
Truthquest's Beginnings guide
.
New Testament 1: The Gospels
is available as a bundle including the student book, teacher's edition, and audio lessons for $56.95 or they can each be purchased separately.
I'm thoroughly impressed and can't wait to check out the Old Testament bundles too! To see what others have to say about the
God's Great Covenant series
, check the
crew blog
.

Disclosure: I received a bible study set free of charge to review. I was not required to give a positive review and all opinions are my own.