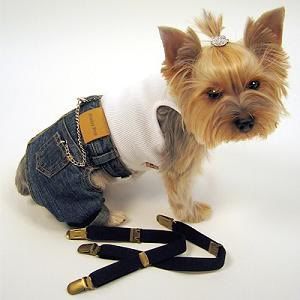 we've switched all three of our dogs over to a "species appropriate" raw diet
. One of our dogs suffers from allergies, and the more we've learned about how crucial diet is to human health, the more sense it makes that the same applies to our pets.
A few days ago, Sarah at
The Healthy Home Economist
featured
a guest post on the same subject
. In the comments, the opinion was expressed that feeding our pets this way amounted to "putting them on the same level as humans". The thoughts I started to leave in a comment there turned into an entire blog post I wanted to share with my readers here!
To begin with, I'll briefly address the cost issue, since it seems to be a factor in this viewpoint (that we're spending as much on our pets as we do on our family members). I can say that, so far, we're spending just about the same that a fairly inexpensive, medium-quality kibble would cost to feed all three dogs. We're purchasing mostly chicken for the raw meaty bones portion. An 8 pound bag of chicken leg quarters for about $7.00 will last nearly a week. We're adding some organ meats each week, which costs another couple of dollars. The rest is scraps/leftovers/byproducts of what our family is eating (broth, fruit strained out of our water kefir, scraps, and so on), which would otherwise go to waste. Even the least expensive high-quality grain-free kibble I could find would cost us close to twice what we're spending.
So...am I putting my dogs on the same level as my family and other humans by feeding them the way God designed them to eat?
As a Christian, I believe that God is the Creator of all things and that we as humans have been given the huge responsibility of stewardship over everything on this planet. That includes all natural resources, land, plants, and animals. As good stewards, we should be the first ones speaking out on environmental issues, the humane treatment of animals, and other issues. Since this is a broad subject that would take too much room to go into in depth here, I'm going to keep the focus on feeding animals for now.
When it comes to the nutritional needs of myself and my family, I think we need to learn as much as we can about how our bodies are designed to function and work
with
that design. The human body is amazing, and the way God has designed and provided what it needs to thrive is amazing too! When we disregard that design, our health suffers. But even more importantly, we are not respecting God's design.
When it comes to the animals designed to provide food for us, we see a similar phenomenon. Each animal's system has been designed to run on certain types of food. When that design is disregarded, there are serious health consequences. When we eat the food produced by these animals, these consequences affect us also. And again, we're not being good stewards of what has been entrusted to us.
So, if I allow a cow to graze on grass, which is what her herbivorous system was designed by God to digest, rather than feeding her grain, corn, and all kinds of waste products, am I putting her on the same level as humans? No, I'm simply respecting her innate nature, God's design. I'm fulfilling my responsibility as a steward of creation.
The same applies to our companion animals, whether it be dogs, cats, or any other domesticated pet. Their systems are designed to run on certain types of food. When they're fed a diet consisting of things their bodies are not equipped to properly assimilate, there will be health consequences. We've been charged with properly caring for these creatures. If we're disregarding that in the name of cost and convenience, we're failing at the task we've been given.
I strongly believe that, in order to fulfill our God-given responsibility to be stewards of his creation, we must respect God's design and cooperate with it. Joel Salatin has expressed this in terms of livestock as letting the chickens express their "chickenness" or the pigs express their "pigness"...in other words, letting animals live the way God designed them to live! So, we should also let dogs express their "dogness", cats express their "catness", and so on.
In my opinion, when we are well aware that God designed a dog to be a carnivore, and yet we feed our dogs a corn and grain based diet, we are being disrespectful of that design. We're disregarding our obligation to be good stewards. I'm not saying that anyone who feeds their dogs typical commercial kibble is necessarily being deliberately disrespectful of God's design. Most of us (including myself for many years) really don't stop to think about it. We don't realize there are other options, or that what we're doing is unnatural. It's the only way we know. Much like many of us have done when it comes to our own nutrition and the Standard American Diet. But once we do realize, once we're aware of how very unnatural this way of doing things is, we should attempt to align ourselves more closely with God's design! If we have the information and the means, and do nothing, what does that say?
No one will do it perfectly, but we're responsible for what we do with that knowledge. We can do the best we can with what's available to us. Our family has very limited time and funds. In a perfect world, if cost wasn't an object and it was readily available, my dogs would eat only grassfed meat that has been raised in a species-appropriate way that honors their God-given design. They don't. They eat a mix of conventional meat from the grocery store and local, humanely-raised, grassfed meat. That's what's available to us, so that's what we do. It's not perfect, but it's lightyears closer to what their bodies are designed to eat than kibble filled with corn, grain, and all kinds of chemicals and byproducts.
Are my pets on a level with my family and other humans? Absolutely not. They are loved and are members of our family, but they are not eternal souls created in God's image. They
are
, however, part of God's creation, designed by Him, and we should strive to respect and cooperate with that design as far as we are able. The greater health that they will almost certainly enjoy is definitely a factor, but even more important to me is knowing that we're doing our best to be good stewards and cooperate with God's design for his creatures.
Feeding my dogs a species-appropriate diet that cooperates with the digestive system God designed for them is an act of respect for his design and worship to him, not an unhealthy elevation of the animals to a human level.
That's my .02.
What are your thoughts?
Linked with Monday Mania, Real Food Wednesday, Simple Lives Thursday, and Fight Back Friday.